We carry a variety of freshwater fish:
BICOLOR ANGEL
CORAL BEAUTY REG
KORAN ANGEL JUVENILE
ROYAL GRAMMA BASSLET
THREE STRIP DAMSEL
NASSARIUS SNAIL LARGE
YELLOW EYE TANG REG
POWDER BLUE TANG REG
POWDER BROWN TANG REG
MIMIC TANG
BLONDE NASO TANG
FOXFACE LARGE
NIGER TRIGGER REG
SOCIAL FAIRY WRASSE
YELLOW CORIS WRASSE
GREEN BIRD WRASSE
FLAME HAWKFISH
LONG-NOSED HAWKFISH
BANGAI (BANNER) CARDINAL
PAJAMA (ORBIC) CARDINAL
HAITIAN CONDYLACTIS ANEMONES
SEBAE PURPLE ANEMONE
RED LEG HERMIT CRAB
EMERALD CRAB
PORCUPINE PUFFER BABY
CORAL BANDED SHRIMP
CLEANER SHRIMP REG
BANDED SERPENT STARFISH
OCELLARIS CLOWN TANK RAISED
ASSORTED CORALS SHOW
CHAETOMORHA ALGAE
FLAME FILEFISH
MANTIS SHRIMP
GLOFISH
ALBINO CORYS
MANY TYPES OF PALTYS
MANY TYPES OF GUPPYS
MANY TYPES OF TETRAS
MANY TYPES OF CICHLIDS
AND MORE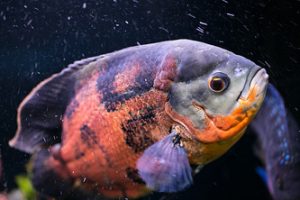 A betta's scientific name is "Betta Splendens." The name "betta" originates from a legendary warrior tribe known as the "Bettah." Other common nicknames are "Siamese Fighting Fish" and "Rumble Fish." Interest started more than 150 years ago when the Siamese kept these fish for ornamentation. The most common type of betta (the Libby variety) has long flowing fins and come in a wide variety of colors.
Wild bettas are found in ponds, ditches, rice paddy fields and slow-moving streams in Cambodia and Thailand.
The male betta is a solitary fish that quietly eats insects and prepares a bubble nest in case a roving female comes along.